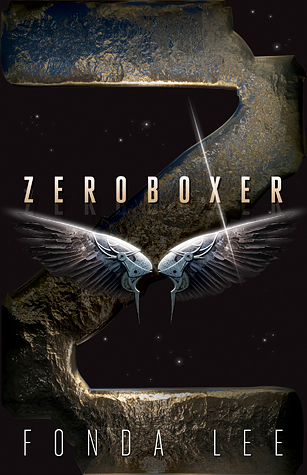 Curious about
Zeroboxer
after reading
Fonda Lee's guest post
over at
Fantasy Cafe
for their Women in SF&F Month, I dove right into this debut not realizing I would be thrown into the world of Carr Luka, a young rising star in the futuristic weightless combat sport known as zeroboxing. Which is really just UFC fighters in space! Well, color me happy! Being a MMA fan myself (who isn't these days, really?) and with a sister who competes in the sport, I had no trouble diving right into this charged story.
Instead of the UFC's Octagon, these fighters (can I just call them MMA fighters? they definitely aren't just boxers) go head-to-head in the Cube, a zero gravity, clear cube-shaped arena - each looking for a win by TKO or submission. And Carr Luka DOMINATES! He's a likable guy (none of that typical alphahole fighter stuff, thank goodness) who is conflicted on a variety of levels with his involvement in the sport, but you just know any time he steps into the Cube it's gonna be
intense
. The descriptions of his fights and the dynamics between the individual fighters were nuanced and highly entertaining. There is even an obvious nod to the UFC's Dana White in the form of Bax Gant, the media-hungry Martian(!!) co-owner of the ZGFA.
Despite some mild pacing problems, I was 100% behind Carr Luka's meteoric rise to stardom as a zeroboxer. The fighter's mentality was spot-on and the Martian-Earth politics terribly fascinating. This reader will absolutely be on the watch for more by
Fonda Lee
. Genetic engineering, submission fighting, and futurist politics, oh my!